Welcome to P & S Plumbing 2022
Aloha! This is Kona P & S Plumbing's first blog post. We are so glad you found our site.
You're probably looking for a qualified and experienced residential plumber in Kona to service your home. You're in the right place, P & S Plumbing offers both residential and commercial plumbing services. Our team has over 20 years of industry experience.
This blog post will cover some of the plumbing services we offer and highlight what makes our company stand out from our competitors.
OUR P & S PLUMBING SERVICES
Our team of plumbers at P & S will handle any service you need with professionalism and efficiency. You can find more information about our plumbing services here.
GENERAL PLUMBING SERVICES
No matter if you need regular maintenance or a special plumbing repair, we can provide general plumbing services that will meet all your needs. Some of these services include:
Shower, tub, sink installation (and other)
Pipe services
Specialties in plumbing repairs for tubs, showers, and toilets.
New drains/garbage disposal installation
Emergency repairs/replacements
WATER HEATERS
At P & S Plumbing, we offer many water heater services including water heater repair and installation as well as water heater replacement. We have worked with many types of water heaters including the following:
Tankless heaters
Gas heaters
Electric heaters
Our team is available 24 hours a day to assist you with your water heating issues. We understand. Nobody wants to take cold showers.
WATER FILTRATION
Water filtration systems in tropical heat are a great way to maintain high-quality water in your house. We are happy to discuss with you your individual needs so that we can match you with the water filtration system best suited for you.
We also have the ability to install water softeners at your home. These will reduce any adverse effects that hard water can have on your body and clothes. Find out more and contact us if you have any questions about our water filtering services.
SEWER REPAIRS AND REPLACEMENT
It is not an easy situation to manage, but a main repair or sewer line issue can be a stressful one. If that happens, it is important to have a reliable residential plumber on your side.
Our plumbers have extensive experience in sewer repair and replacement. If you find a leak in your sewer, our professional team can fix it. P & S Plumbing aims to return your home or business's sewer system as normal as possible.
ABOUT OUR PLUMBING COMPANY
P & S Plumbing, a locally-owned company, has been serving customers for over two decades. When you hire us to fix your plumbing system in your home or business, we will be direct, honest, and transparent. We are proud to offer exceptional customer service.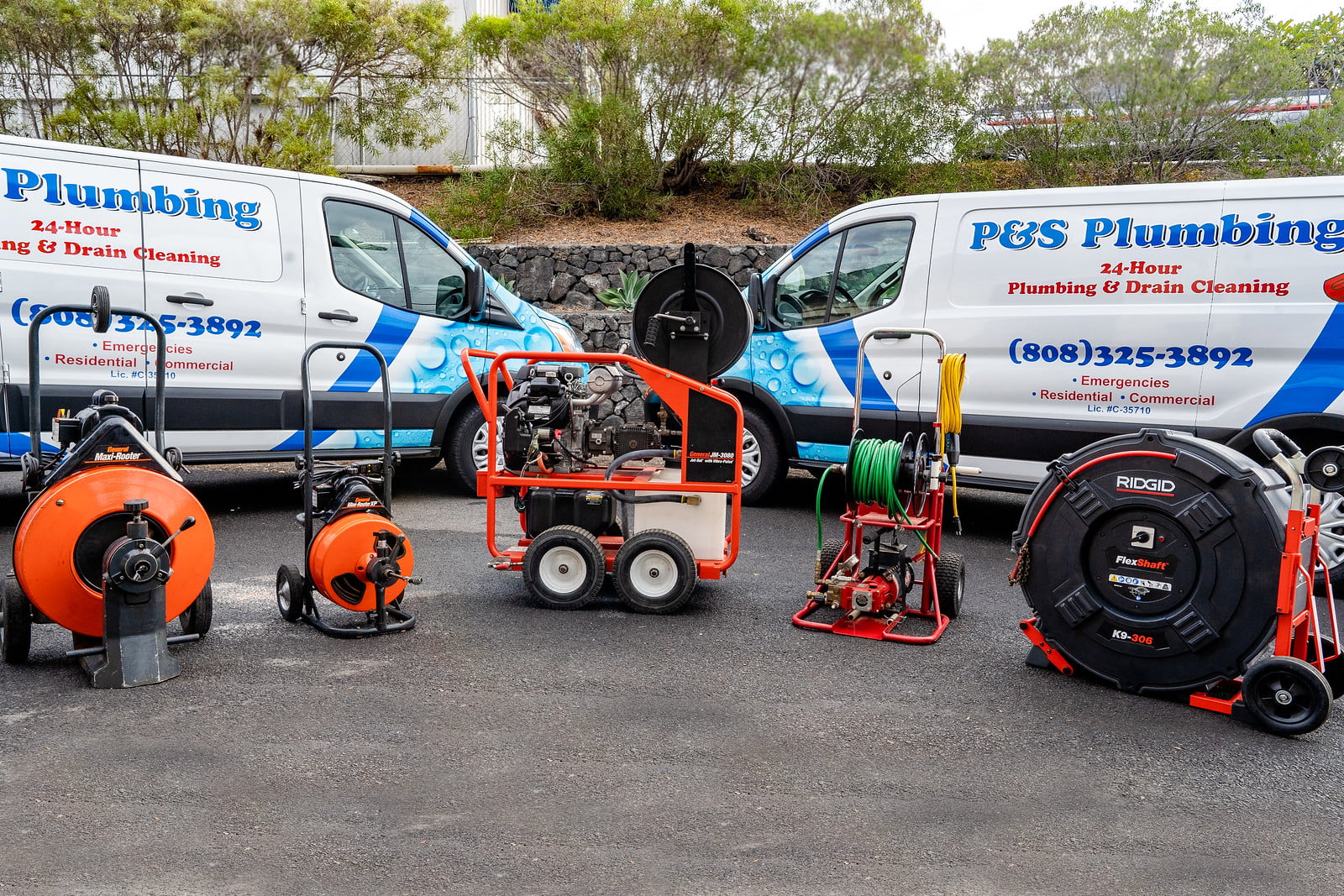 We have worked with well-known brands, and are proud to use only the best plumbing materials and tools for your system. You can trust us to do the job correctly the first and last time. We also promise to finish the job when promised.
Do you still have questions about whether you can trust Kona's residential plumbers? You can read testimonials and hear what our customers have to say about us here.
P & S Plumbing provides top-rated plumbing services for the Big Island. Do you need a quote to fix a problem with your plumbing? Are you looking to install a water heater? Are you in need of an urgent repair? We are the local team to do it.
Contact us today to get more information or a free estimate. Call us at (808) 325 3892 or complete our online form. We look forward to hearing from you!